Press releases
JATCO to participate in Automotive Engineering Exposition 2018 Yokohama
JATCO Ltd (President: Teruaki Nakatsuka, head office: Fuji city, Shizuoka, Japan, Capital JPY: 29.93 billion, hereinafter "JATCO"), a leading manufacturer of automatic transmissions (ATs, CVTs : continuously variable transmissions), will participate in "Automotive Engineering Exposition 2018 Yokohama" (hosted by the Society of Automotive Engineers of Japan, Inc.), an automotive technology exhibition that will be held at PACIFICO YOKOHAMA for three days, from May 23 (Wed.) to 25 (Fri.).The details of JATCO's participation are as follows.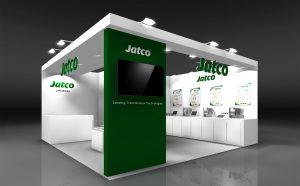 JATCO Booth (booth number: 300)
JATCO will showcase the latest technologies in the areas of low fuel consumption and excellent driving performance, presenting Jatco CVT7, Jatco CVT8, and Jatco CVT8 HYBRID, its main products, and also a concept model of a transmission for mild-hybrid vehicles, which will be exhibited for the first time in Japan, as a solution for increasingly stringent environmental regulations. Additionally it plans to show a new operating principle model that demonstrates the mechanisms of CVTs.
JATCO is the only company in the world to offer an extensive lineup of CVTs for automobiles ranging from mini cars to 3.5-liter vehicles and in 2017, it held the industry's top share of 37% of worldwide CVT production. At the end of March 2018, JATCO achieved a cumulative production volume of approximately 40 million CVTs.
—Overview of JATCO's exhibits at Automotive Engineering Exposition 2018
1. "Jatco CVT7" for mini and small FWD vehicles (cut section model)
2. "Jatco CVT8" for medium and large FWD vehicles (cut section model)
3. "Jatco CVT8 HYBRID" for medium and large FWD vehicles (cut section model)
4. Transmission for FWD mild-hybrid vehicles (concept model)
5. Operating principle model