Press releases
JATCO launches Quality Check Track in Fuji area
JATCO Ltd (President: Teruaki Nakatsuka, head office: Fuji city, Shizuoka, Japan, Capital: 29.93 billion JPY, hereinafter "JATCO"), a leading manufacturer of automatic transmissions (ATs, CVTs), has opened quality check track for vehicle tests in the Fuji area, and launch ceremony was held on April 19.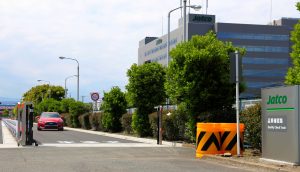 This new quality check track is JATCO's first test-driving facility in the Fuji area. JATCO built a 313-meter long and 4.50-meter wide straight course with turnaround areas through renovations to half of the road surface in Area 4, Fuji.
The new track has a three-layered asphalt structure to minimize road vibration and enhance sensitivity to small movements. Road surface conditions for high-speed driving is realized.
Quality check track will be utilized to evaluate and analyze a variety of phenomenon recognized when the unit is installed in a vehicle with the aim of improving our product quality. JATCO also plans to increase opportunities to appeal its products to customers who visit for business purposes by not only giving test facility tours but also providing test rides in vehicles equipped with JATCO's products.
Additionally, JATCO intends to use the quality check track internally in new employee education and employee events and makes it available for local events. It expects variety of utilization of the facility.
The opening ceremony on April 19 featured opening remarks by corporate officers, a tape-cutting ceremony, and test vehicle driving. Teruaki Nakatsuka, President and CEO, who attended the ceremony, commented that "a full-fledged quality check track should contribute to improve our product quality and offer a variety of opportunities for our employees and local people."