Press releases
JATCO to participate in the Beijing Motor Show 2018
JATCO Ltd (President: Teruaki Nakatsuka, head office: Fuji City, Shizuoka, Japan, Capital: JPY29.93 billion), a leading manufacturer of automatic transmissions (ATs/CVTs: continuously variable transmissions), will participate in the Beijing Motor Show 2018, which will be held at China International Exhibition Center New Venue (Tianzhu – Beijing), from Apr 27 to May 4 (press days: Apr 25 and 26).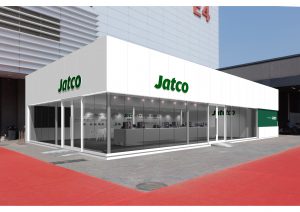 JATCO Booth (Booth Location: E34A01)
As a leading manufacturer of automatic transmissions, JATCO will feature transmissions which realize both driving performance and fuel efficiency at high level, including CVT of which market share of JATCO is globally No.1, transmission exclusively for hybrid vehicles applying a revolutionary "1-motor and 2clutches system" and step AT for medium and large-sized FR vehicles. Additionally JATCO exhibits a concept model of a transmission for mild-hybrid vehicles for the first time being able to comply with tightening environmental regulations in Chinese market.
Higher driving performance and environmental performance are requested for automatic transmissions in Chinese market expecting increase of 2-pedal transmission demand. JATCO continues to provide various solutions to meet these market needs and to contribute to mobility development in China with its transmission technologies.
—Overview of JATCO's exhibit at Beijing Motor Show 2018
1. "Jatco CVT7" for mini and small FWD vehicles (cut section model)
2. "Jatco CVT7 W/R" for small FWD vehicles (cut section model)
3. "Jatco CVT8" for medium and large FWD vehicles (cut section model)
4. "Jatco CVT8 HYBRID" for medium and large FWD vehicles (cut section model)
5. 7-speed AT for medium and large RWD vehicles (cut section model)
6. Transmission for RWD hybrid vehicles (cut section model)
7. Transmission for FWD mild-hybrid vehicles (concept model)