Press releases
JATCO produces medical gowns
Fuji, Shizuoka – As part of our support for medical sites that are responding every day to the novel coronavirus, JATCO Ltd is producing medical gowns made from polyester sheets used as packaging material, and providing them to the Fuji Medical Association in Fuji City, Shizuoka Prefecture, where our headquarters are located.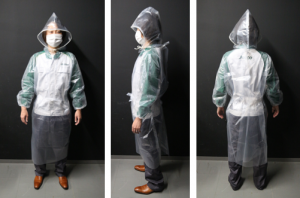 These medical gowns are made from polyester sheets used in packaging at the factory and other locations, and are produced in the clean room of our CVT assembly line at our Fuji Area 1 location. We intend to produce 1000 gowns by mid-June, and we delivered the first 100 to the Fuji Medical Association on May 21. We will continue producing them as needed.
As the burden on medical sites continues to build up in line with the spread of the coronavirus, we thought about what we can do, and after confirming the needs of the Fuji Medical Association, we decided to provide medical gowns. The members of the Medical Association and our resident physician coordinated and confirmed the specifications, and production began from mid-May.
Furthermore, we have been providing medical face shields to the Fuji Medical Association as well, and have delivered 400 to date. By mid-June we plan to have produced an additional 600 face shields, and will provide them to various medical sites through the Fuji Medical Association, including the Fujinomiya Medical Association, and the Fuji Dental Association.
We are sincerely grateful for the work of medical staff during this unprecedented, severe situation. With the view of preventing the further spread of coronavirus, we will provide what support we can to society, as well as continue to advance initiatives that give maximum consideration to the health and safety of all our staff and related parties.
About JATCO Ltd
Headquartered in Fuji, Shizuoka, JATCO is a leading automotive transmission manufacturer, specializing in the design, development, and manufacture of automatic transmissions and CVTs. In addition to plants in Japan, JATCO has production facilities in Mexico, China, and Thailand.
High-resolution image data
1. Gown front
2. Gown side
3. Gown back