Press releases
JATCO newly develops the JR913E 9-speed AT for RWD vehicles
Fuji, Shizuoka – JATCO Ltd has newly developed the JR913E, a 9-speed automatic transmission for RWD vehicles.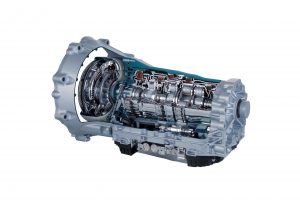 The JR913E 9-speed automatic transmission for RWD vehicles
JATCO's newly developed 9-speed automatic transmission for RWD vehicles is a high-efficiency high-response transmission that has ideal gear ratios and is constructed with an oil pressure system that enables highly responsive gear changes.
Main features are as follows:
9-speed transmission allows selection of optimal gear for driving conditions
By enabling the selection of the optimal gear ratio, the transmission can deliver a powerful and direct driving feel at low to medium speeds, while maintaining low engine RPMs at high speeds for low noise and high efficiency.
High efficiency through mechanical loss minimization and design optimization
By minimizing the mechanical losses in the oil pump and gears, JATCO has created a transmission with high efficiency. In addition, by adjusting the internal lubricant flow rate in response to driving conditions to ensure each component is always provided with the optimal flow, both high efficiency and high durability are achieved.
Highly responsive actuator enables driving feel that fully reflects the driver's will
By activating the electric oil pump when shifting and improving the electric control of the solenoids in the control valve, the vehicle response delay following the operation of the accelerator pedal by the driver has been lowered to the absolute minimum, enabling the driver to drive exactly as they desire.
The JR913E is being produced at JATCO's Fuji Area (Fuji, Shizuoka) and is installed in the Nissan Titan, which went on sale in February 2020 in North America.
About JATCO Ltd
Headquartered in Fuji, Shizuoka, JATCO is a leading automotive transmission manufacturer, specializing in the design, development, and manufacture of automatic transmissions and CVTs. In addition to plants in Japan, JATCO has production facilities in Mexico, China, and Thailand.