Press releases
JATCO begins CVT production at a new plant in Zhangjiagang, Suzhou, China
Suzhou, China – JATCO Ltd (hereinafter "JATCO") is starting full-fledged production of continuously variable transmissions (CVTs) at its second CVT production plant in China, JATCO (Suzhou) Automatic Transmission Ltd. (hereinafter "JATCO Suzhou"). An opening ceremony was held at the new plant, which is located in the Economic and Technological Development Zone of Zhangjiagang City, Jiangsu Province, on Friday, November 8.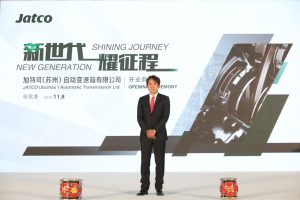 JATCO Suzhou was established in July 2018 as the second CVT plant in China following the establishment of JATCO (Guangzhou) Automatic Transmission Ltd. (hereinafter "JATCO Guangzhou") in 2007. This plant was built to accommodate the further growth in CVT demand accompanying the expansion of China's automobile market, and it has succeeded in starting volume production in the short period of roughly one year after its construction began. Its location offers superb logistics, as it is close to the large international trading port facilities of both Shanghai and Zhangjiagang, making it an excellent place for shipping not only within China, but also to overseas sites such as Japan.
Furthermore, JATCO Suzhou, as JATCO's newest plant globally, uses the latest in JATCO's global standard equipment and operating procedures to manufacture the Jatco CVT8, a CVT for medium and large vehicles that is a core JATCO product. It has 6.4 billion yen in capital, an output capacity of 480,000 units per year, and roughly 700 employees. Combined with the numbers from JATCO Guangzhou, this enables JATCO to supply about 1.6 million units per year in China, making this an important production plant supporting the Chinese market.
JATCO President Teruaki Nakatsuka commented that "The still growing Chinese two-pedal market has accepted CVT technology—which simultaneously achieves both excellent fuel economy and a smooth driving experience—and I am delighted that our second plant has successfully begun operation. The Chinese market is strategically important for the growth of the JATCO Group and we will continue to contribute to advances in China's automotive industry and mobility while making full use of our company's technological strengths in this market." Additionally, JATCO Suzhou President Hisashi Saito commented that "JATCO Suzhou is a young plant built through the mobilization of the JATCO Group's strengths, based on global JATCO's—including JATCO Guangzhou's—incredible CVT production technologies and experience in China. I speak for all the employees here at JATCO Suzhou when I say we want to deliver to our Chinese customers as many high-quality, high-performance CVTs as we possibly can."
About JATCO Ltd
Headquartered in Fuji, Shizuoka, Japan, JATCO is a leading automotive transmission manufacturer, specializing in the design, development, and manufacture of automatic transmissions and CVTs. In addition to plants in Japan, JATCO has production facilities in Mexico, China, and Thailand. As of 2018, the company continues to hold the largest share of the global CVT market.