Press releases
JATCO becomes first "Platinum Kurumin" certified enterprise in Shizuoka Prefecture
JATCO Ltd (President: Teruaki Nakatsuka; head office: Fuji City, Shizuoka, Japan; capital: JPY29.9 billion), a leading manufacturer of highly environment-friendly CVTs (continuously variable transmissions), has announced that at a certificate awarding ceremony on August 5, it became the first "Platinum Kurumin" certified enterprise headquartered in Shizuoka Prefecture, in a system for special certification based on the Act for Partial Revision of the Act for Measures to Support the Development of the Next-Generation Children (popularly referred to as "Platinum Kurumin" certification), under the Shizuoka Labor Bureau of the Ministry of Health, Labour and Welfare.   
"Platinum Kurumin" certification was newly established on April 1, 2015, and it is given to "Kurumin" certified companies that have executed such measures at a higher standard than before.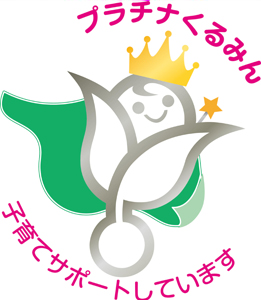 "Platinum Kurumin"  mark
By proactively accepting a wide range of employees of different genders, nationalities, career backgrounds, and so on, JATCO promotes diversity with a view to realizing a vibrant organization and generating new ideas. Developing an environment in which employees can balance child-rearing and work is a part of these efforts. The company has received the certification on this occasion partly based on high acclaim for its introduction of various systems that support the bearing and raising of children, and use of these in an advanced manner. These include a leave system for before and after childbirth, a childcare leave system, a work-at-home system that accommodates various working styles, and a flextime system.
During the three years from April 1, 2012 through March 31, 2015, the time period of the "Platinum Kurumin" certification, JATCO achieved results at a very high level, including 98% of its female employees utilizing its childcare leave system (49 out 50 female employees who gave birth to a child), and 43% of its male employees taking childcare leave or using days off for the purpose of childcare (182 out of 419 male employees whose spouse gave birth to a child).
Going forward, in order to serve as a company that is able to provide high value to customers and contribute to society, JATCO will continue its efforts to promote diversity and develop an environment in which each of its employees can actively participate in the company in line with his or her own life events and lifestyle.