Press releases
JATCO exhibits at Automotive Engineering Exposition 2015
JATCO Ltd (President: Teruaki Nakatsuka; head office: Fuji City, Shizuoka, Japan; capital: JPY29.9 billion), a leading manufacturer of highly environment-friendly CVTs (continuously variable transmissions), has announced its participation in the Automotive Engineering Exposition 2015. The three-day automotive technology exposition is organized by the Society of Automotive Engineers of Japan and will be held at Pacifico Yokohama on May 20 (Wed.), 21 (Thu.), and 22 (Fri.).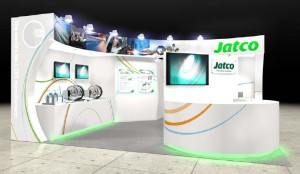 JATCO booth
As the theme for this year's booth is "JATCO's continuously evolving CVTs," the evolution of JATCO's CVTs up to the present day will be on display, as well as examples of its latest technologies. The booth will also feature explanations of a newly adopted transmission control technology developed to particularly meet the needs of consumers in European and North American markets, and start-stop control technology that results in a significant improvement in fuel economy. An operational model CVT at the booth will allow visitors to get a hands-on feel for how CVTs work.
JATCO is the only manufacturer in the world able to provide a lineup of CVTs varied enough to be installed in vehicles ranging from mini to 3.5-liter class vehicles. The company will continue its efforts to provide customers with transmissions that deliver superior driving performance and leave a small carbon footprint.  
Theme: "JATCO's continuously evolving CVTs"
– Jatco CVT7 (CVT with an auxiliary gearbox for mini and compact FWD vehicles) 
– Jatco CVT8 (CVT for mid- to large-sized FWD vehicles) 
– Jatco CVT8 HYBRID (CVT for mid- to large-sized FWD hybrid vehicles) 
– An operational model CVT