Press releases
JATCO offers Korean car manufacturers greener alternatives
JATCO, the world's leading manufacturer of environmentally friendly automatic transmissions known as CVTs (continuously variable transmissions), will have a booth at the 2015 Seoul Motor Show (see below for list), which will take place from April 2 (press day) to 12 at the Korea International Exhibition Center.
Facing strict regulations to limit greenhouse car emissions, car manufacturers in South Korea – including Nissan Korea, Renault Samsung and GM Korea – are grateful for companies like JATCO because, unlike regular automatic transmissions, its CVTs allow a car's engine to run in an area of high fuel efficiency, providing smooth acceleration and a comfortable ride. The other main reason is that JATCO is the only CVT manufacturer in the world to offer CVTs that are applicable to engine sizes that range from 0.66 liters all the way up to 3.5 liters.
JATCO's new-generation CVT8, which is 10% more fuel efficient than conventional CVTs, is installed in the diesel-powered version of Nissan Qashqai that was launched in Korean market in November 2014 to much acclaim.  
JATCO profile
Established n 1999 (founded in 1943), JATCO Ltd (President Teruaki Nakatsuka; headquarters in Fuji City, Shizuoka, Japan; capital: JPY29.9 billion) is a manufacturer that specializes in automatic transmissions. Annual production for FY2013 was approximately 5.1 million units, with consolidated sales of JPY7.1 billion. JATCO's share of the global market was 49% in 2013. The company has set a goal to become the global No. 1 automatic transmission manufacturer by 2020.
JATCO in Korea
JATCO has had a presence in Korea for over 15 years. In 1998, it established JATCO Korea Engineering Corp. (JKE), followed by JATCO Korea Service Corp. (JKS) in 2004. Through its 267 highly qualified engineers and sales personnel the two outlets provide R&D and sales support for the global JATCO Group, which comprises production sites in Mexico, China and Thailand, as well as R&D offices in the U.S. and France.
Booth location: P-26
<Booth image>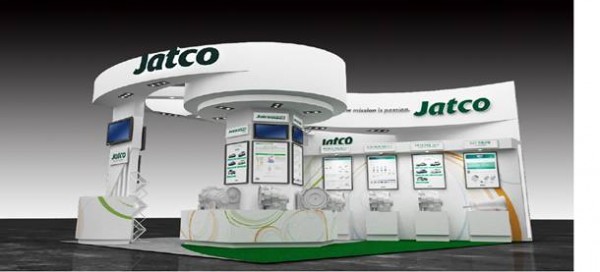 ●The data for this image (.jpg file) is downloadable from our website. 
Overview of JATCO's exhibits:
1) Jatco CVT8 (new-generation CVT for mid- and large-sized front-wheel drive passenger vehicles)
2) Jatco CVT8 Hybrid (new-generation CVT for hybrid front-wheel drive passenger vehicles)
3) Jatco CVT7 (new-generation CVT with an auxiliary gearbox for mini and compact front-wheel drive passenger vehicles)
4) CVT for mid-sized front-wheel drive passenger vehicles
5) 6-speed AT for mid- and large-sized front-wheel drive passenger vehicles
6) 7-speed AT for rear-wheel drive passenger hybrid vehicles
7) CVT simulator and parts, etc.
-Ends-